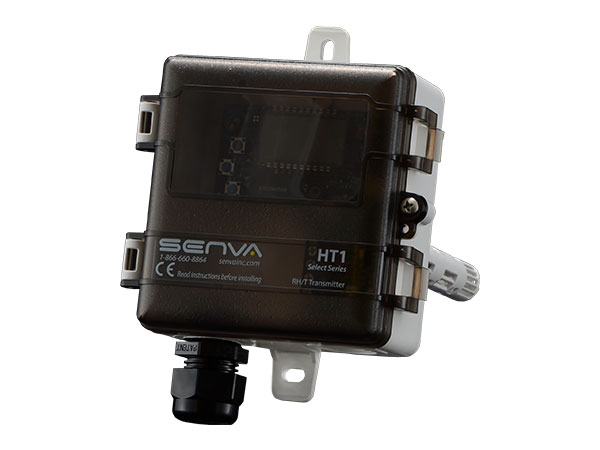 Key Points
2% or 3% accuracy (NIST certification options)
0-5V/10V and 4-20mA RH/Temp (thermistors optional)
LCD display with field calibration menu
Field replaceable element
Applications
HVAC room humidity and temperature measurement and control
Replaceable element is ideal for difficult environments such as swimming pools
The HT1D Series is designed with both the engineer and field technician in mind. The HT1D Series combines excellent stability with reliable operation in 2% or 3% RH accuracy options. Optional temperature transmitters, RTDs and thermistors add further flexibilty when ordering. The standard LCD and field replaceable elements make the intitial installation and future service a breeze.
Senva duct RH sensor gives you the edge. Thanks to our chip on board CMOS sensor, you get stable, temperature compensated, noise-free performance. Add in field adjustability with LCD and you can address the most demanding applications with ease. Our sensor is protected by a sintered stainless steel media filter for long life. And should the element ever need replacing, you can do so by simply removing it without disturbing the installation making it ideal for harsh environments. Choose from temperature transmitter or RTD/thermistor options. Trust Your Better Senses.
All prices shown are excluding tax unless otherwise specified.