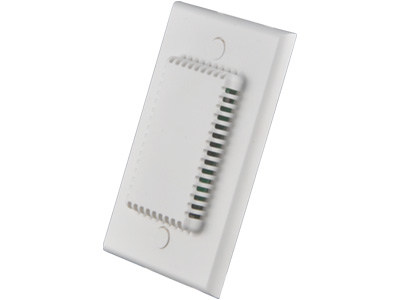 Key Points
Attractive recessed design is attractive and durable
No exposed screws; unobtrusive tamper resistant design
Fits easily in standard single gang boxes
Saves installation time and reduces callbacks
Superior RH sensing
On-board temperature compensation for RH.
Gasket seals sensor against wall drafts and false readings
Choose from a range of accuracies and options
2% and 3% RH accuracy options
0-5V, 0-10V, 2-wire and 3-wire 4-20mA options
Thermistor outputs for temperature optional
Make it your brand
Min. order quantity of 10 units; small set-up fee
Color printed logo and/or text
Long-lasting, high-quality marketing
No bulky, cheap-looking stickers
Generate service calls for the life of the product!
Attractive design is attractive, durable, and cost-effective--ideal for schools and other harsh environments. Mount to J-box or surface mount with small cut-out. Features accurate 2% and 3% RH, and choice of 0-5V, 0-10V, 2-wire and 3-wire 4-20mA outputs as well as thermistor options. Professionally printed private labeling available to promote your company and future service business,.
All prices shown are excluding tax unless otherwise specified.