Current Switch - Autoset-VFD/CV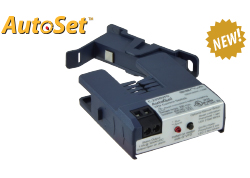 Self-calibrating for proof of flow
0.5-135A range
N.O. 30VAC/DC or 120VAC output
Optional command relay
Applications
Detecting belt loss, coupling shear, and mechanical failure on variable frequency drives and constant volume fans and pumps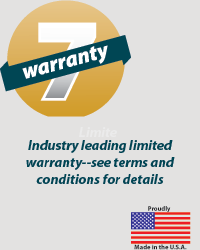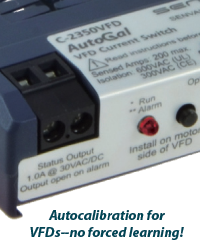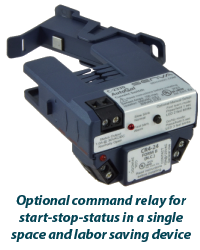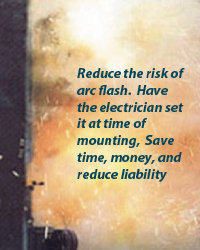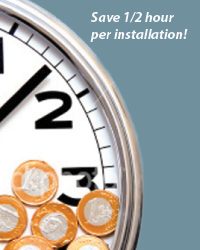 Description
The AutoSet™ VFD self-calibrates to detect proof of flow on both variable frequency driven and constant volume motors on fans or pumps. The C-2350VFD automatically set the proper threshold, eliminating false alarms associated with varying frequencies. Detects motor undercurrent conditions such as belt loss, coupling shear, and mechanical failure on fans and pumps while reducing installation time.
Product
Price
Quantity
C-2350VFD
Current Switch, AutoSet, VFDSplit-core, 1-135A range
$ 147.00
CR3-12
Command Relay, N.O., 12 VDCcoil
$ 25.50
CR3-24
Command Relay, N.O., 24 VAC/DCcoil
$ 25.50
CR4-12
Command Relay, N.C., 12 VDCcoil
$ 25.50
CR4-24
Command Relay, N.C., 24 VDCcoil
$ 25.50


CLICK ON LISTED ITEM FOR SPECIFICATIONS.

List prices shown; trade pricing appears on orderpad for Senva Trade Accounts.
For qualified trade pricing, please contact us at 866-660-8864.
Oregon has no sales tax.
Self calibration for proof of floor on fans and pumps
Works without costly 'training' of sensor - our sensors are just plain smarter!
No need to open hot starter enclosures - save on labor as well as improve safety
Only VFD sensor line capable of functioning on VFDs to 0.5A
Sensor is always properly adjusted—no call backs
Push-button and LED interface:

Slow blink = normal operation
Fast blink = alarm
Fast learn mode (optional): Press/hold button 1 second, LED makes 2 fast blinks.
Go/No mode (optional) : Press/hold button 5 seconds, LED makes 3 fast blinks.
Split-core with optional command relay
Easy installation and provides stop/start/status in unitary device—saves component and installation space/cost
Maintenance-free—no call backs
Superior to differential pressure sensors
Industry leading 7 year warranty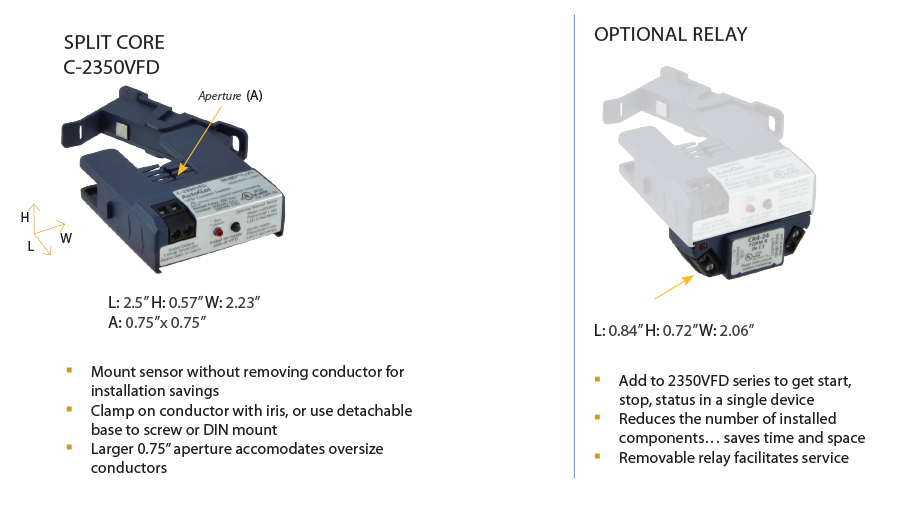 ORDERING INFORMATION
Split Core
Min (on)
Max A
Output*
Sensor Power
C-2350VFD

3.5A @ 60Hz

1.5A @ 20Hz

2.5A @ 10 Hz

135A
1.0A@30VAC/DC
Induced
| | | |
| --- | --- | --- |
| Command Relay | Contact rating | Coil |
| CR3-24 | N.O. 10A@125VAC | 24VAC/DC, 15mA nom. |
| CR4-24 | N.C. 10A@125VAC | 24VAC/DC, 15mA nom. |
| CR3-12 | N.O. 10A@125VAC | 9-12VDC, 30mA nom. |
| CR4-12 | N.C. 10A@125VAC | 9-12VDC, 30mA nom. |
Specifications
Standard Output Rating
1.0A@30VAC/DC
Line Voltage Output Rating
0.2A@120VAC (-HV MODEL ONLY)
Output Type
NO, solid-state FET
Temperature Rating
-15-60 ° C
Insulation Class
600V RMS. For use on insulated conductors only! Use minimum 75 ° C insulated conductor
Frequency Range
50/60Hz