Current Switch - Multi-Point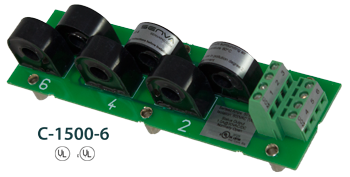 Go/No status for 6 points
0.3-50A range per point
ECM certified
Applications
Fan wall and other multi-motor installations
Monitoring on/off status of electrical loads
Monitoring direct-drive units, exhaust fans, and other fixed loads
Verifying lighting run times
Description
This multi-point sensor provides cost-effective control panel mount monitoring for 6 loads. Fixed threshold trip point detects the presence of current above low trip point to provide cost-effective status monitoring unit vents, exhaust fans, recirculation pumps, and other fixed loads where belt loss is not a concern.
Product
Price
Quantity
C-1500-6
GO/NO CURRENT SENSOR STRIP 6-CH
$ 250.00


CLICK ON LISTED ITEM FOR SPECIFICATIONS.

List prices shown; trade pricing appears on orderpad for Senva Trade Accounts.
For qualified trade pricing, please contact us at 866-660-8864.
Oregon has no sales tax.
Reliable and cost-effective
Compact design conserves panel space
Great for fan wall applications
Solid-state - no moving parts to fail
Less expensive than 277V relays for lighting status
More reliable for status than relays across auxilary contacts
Industry leading 7 year limited warranty
ORDERING INFORMATION
6 Point Sensor
Min (on)
Max A
Output
C-1500-6
0.3 A
50 A
1.0A@30VAC/DC
SPECIFICATIONS
Part Number
C-1500-6
Amperage Range
0.3A (on)-50A (50A Max. per sensor)
Output Type
NO, solid-state FET
Output Rating
1.0A@30VAC/DC Max.
Temperature Rating
-15~60 ° C
Insulation Class
600V RMS. For use on insulated conductors only!
Use minimum 75 ° C insulated conductor
Sensor Power
Induced
Frequency Range
50/60Hz
Dimensions ( LxWxH)
5.8" l x 1.7" w x 1.45" h
Sensor Aperture
0.38"