AutoSet Series
Self-calibrating Current Switch
Higher Reliability, Faster Installation, Superior Accuracy | Sense the Difference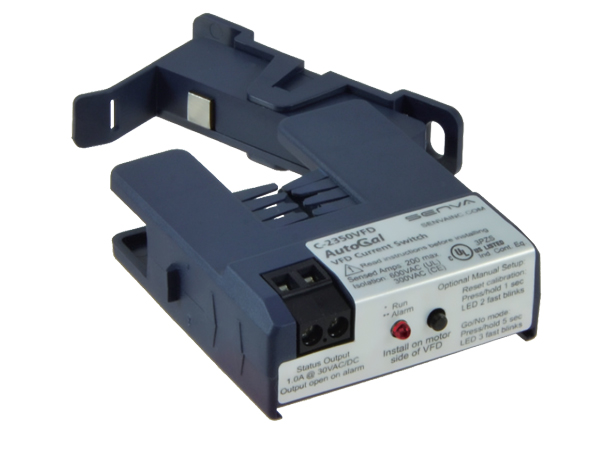 Self-calibrating for proof of flow
Works flawlessly on VFDs and constant volume applcations
0.5-135A range
N.O. 30VAC/DC output
Optional command relay



Self-calibration for proof of flow on both VFD and contstant volume (CV) fans and pump applications
Works without costly 'training' of sensor - our sensors are just plain smarter!
No need to open energized enclosures - save on labor as well as improves safety
Only sensor line capable of functioning on VFDs to 0.5A
Sensor is always properly adjusted—no call backs
Push-button and LED for fast learn and go/no modes
Optional command relay for stop/start/status in unitary device—saves component and installation space/cost
Solid-state-more reliable than mechanical pressure switches for proof of flow
Quality backed by 7 year limited warranty!
Description
The AutoSet™ VFD self-calibrates to detect proof of flow on both variable frequency driven and constant volume motors on fans or pumps. The C-2350VFD automatically sets the proper threshold, eliminating false alarms associated with varying frequencies. Detects motor undercurrent conditions such as belt loss, coupling shear, and mechanical failure on fans and pumps while reducing installation time. New super-low 0.5A turn-on--totally self-powered!
Applications
Detecting belt loss, coupling shear, and mechanical failure on variable frequency drives and constant volume fans and pumps.
Great for data center current switch sensing
All prices shown are excluding tax unless otherwise specified.