PW31 Series
Single Diaphragm Wet-to-Wet
Differential Pressure Sensor
Higher Reliability, Faster Installation, Superior Accuracy | Sense the Difference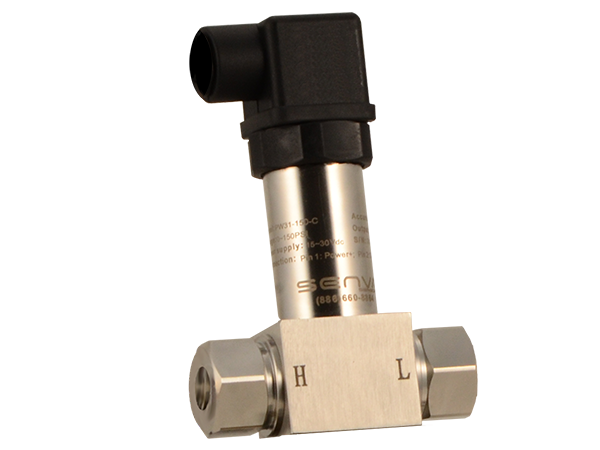 ±0.25% accuracy
Stand-alone transducer, 3-valve, or 5-valve options
Rugged IP65 construction for harsh environments
Optional LED display for ease of commissioning and troubleshooting
Temperature compensated element for high accuracy in any environment
3-valve or 5-valve bypass options available to meet specifications
DIN 43650 connector with screw terminals - no splicing necessary
Versatile 1/2" FNPT allows simplified conduit connections - connect to any EMT, flex, or liquid-tight conduit
Easy-access bleed valves for quick commissioning
Calibration certificate included with every sensing element
Optional LED display is highly visible and makes commissioning and troubleshooting simple (IP65)
Description
Senva's PW31 Series is designed to streamline installation and provide maximum accuracy. Options for standalone transducer or 3-valve and 5-valve bypass assemblies allow flexibility and save time on installation and commissioning. The single-diaphragm element is temperature compensated to provides superior ±0.25% accuracy. The PW31's compact, light, and rugged structure combined with IP65 stainless steel construction make it ideal for most installations and capable of withstanding the most rugged environments. Now available with a highly visible, loop-powered LED display. Just plug it in for ease of commissioning and troubleshooting (4-20mA version only).
Applications
Meet rigid accuracy and/or bypass specifications
Demand measurement in HVAC systems for pump speed control and local indication
Process control systems
Measurement of gases, vapors, and liquids
Measure pressure changes on pumps for efficiency regulation and energy savings
Level measurement in tanks and vessels
Filter status monitoring
System leak detection
Great for data center wet pressure sensing
All prices shown are excluding tax unless otherwise specified.