VT0D Series
VT0D VOC/Temp Duct
Higher Reliability, Faster Installation, Superior Accuracy | Sense the Difference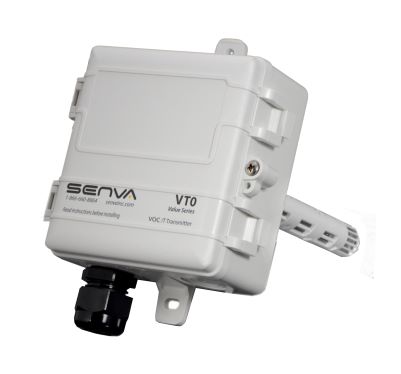 Cost-effective measurement of room VOC levels
0-5V, 0-10V, 2-wire and 3-wire 4-20mA options
Thermistor outputs for temperature optional
Rugged attractive design
On-board temperature compensation for VOC
Gasket seals sensor against wall drafts and false readings
Senses thousands of contaminants
Perfect alternative or compliment to CO2 sensing for ventillation
New enclosure design is rugged and slim; unobtrusive tamper resistant design
Fits easily in standard single gang boxes
0-5V, 0-10V, 2-wire and 3-wire 4-20mA options
Thermistor outputs for temperature optional
Description
The VT0D is capable of sensing thousands of VOC's coming from sources such as paints, glues, cleaners, alcohol, building products, smoke, and myriad other harmful or offensive gases. It's ability to sense these contaminants in addition to breath and other bodily functions makes it the preferred alternative or compliment to CO2 occupancy sensing. The VT0D Value Series ensures that odor and ventilation issues are never a topic of conversation. An array of analog outputs and thermistor options accommodate any installation and keep occupants breathing easy.
Applications
Verify operation of ionazation and UV systems
Controlling ventilation in response to occupancy
Ventillation control
Economizer control
Cafeterias, conference rooms, restrooms and public assembly areas
All prices shown are excluding tax unless otherwise specified.