ECMset Series
ECM (Brushless motor) Current Switch
Higher Reliability, Faster Installation, Superior Accuracy | Sense the Difference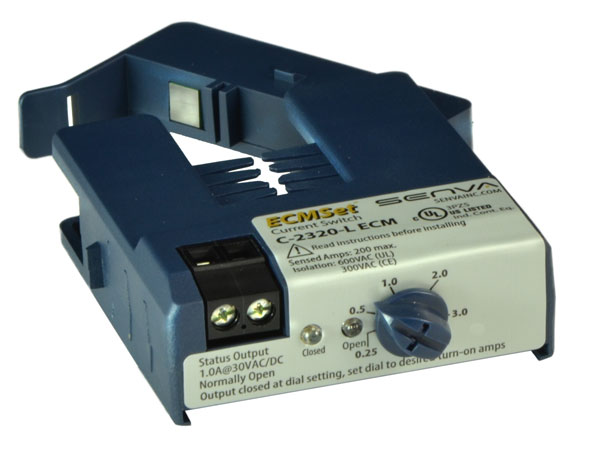 Adjustable minimum turn-on
Prevents false trip due to ECM stand-by current
Split-core operation to 200A
N.O. 30VAC/DC output
Reliable operation on ECM motors
Set trip point with easily scaled dial to that sensor only turns on when motor is actually running
Super low turn-on adjustment scale Maintenance-free—no call backs
No hazardous guesswork. Multi-turn adjustments are a thing of the past
Reduce the risk of arc flash; sensor can be set without calibration in live enclosure
Industry leading 7 year warranty
Description
ECMSet™ is designed for no/go run detection on electronically commutated motors (ECMs) . ECMs  draw a small amount of AC standby current to power their inverter, up to 1A, even when the motor isn't running.  The ECMSet features a high resolution adjustable turn-on setpoint to ignore standby current, preventing false ON status indications.
Applications
No/go run detection for EC motors
On set-point prevents false trips due to EC inverter stand-by current
All prices shown are excluding tax unless otherwise specified.