P6 Pro Series
P6 Universal Nema 4 Pressure Sensor
Higher Reliability, Faster Installation, Superior Accuracy | Sense the Difference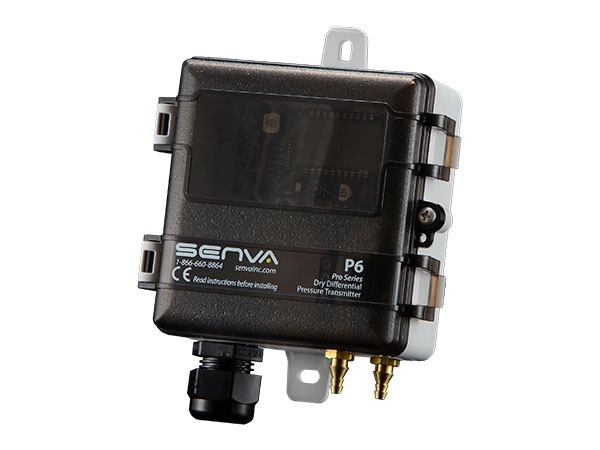 0-5", 15", and 40" W.C. ranges; 10 selectable sub-ranges
0-1250, 3750, and 10000 Pa ranges; 10 selectable sub-ranges
LCD display and LED indicator
Nema 4X enclosure (Duct/port version)
Selectable 4-20 mA loop-powered, 4-20 mA 3-wire, 0-5VDC, 0-10VDC for compatibility
10 field selectable pressure ranges to address a wide range of applications with high resolution
Field selectable Pa or WC" display
Zero calibration push button and remote contact input
Models for duct or remote probe applications
Selectable fast/slow response rate (2s fast, 8s slow)
Non-position sensitive for easy placement
Conduit ready or use included water tight cable gland
LED: Power heartbeat, ,momentary rapid flash = autozero complete, continual rapid flash = 110% over pressure
Description
The P6 universal dry media pressure transmitter accurately measures multiple ranges optimized for building (zone) pressure, filter measurement, and static duct applications. Selectable outputs and uni/bi directional readings reduce inventory. Conduit ready Nema 4 enclosure for harsh environments.
Applications
Building (zone) pressure
Filter condition measurement
Duct/static
Wash down environments
All prices shown are excluding tax unless otherwise specified.