EMX Advanced
True RMS Energy Meter
Higher Reliability, Faster Installation, Superior Accuracy | Sense the Difference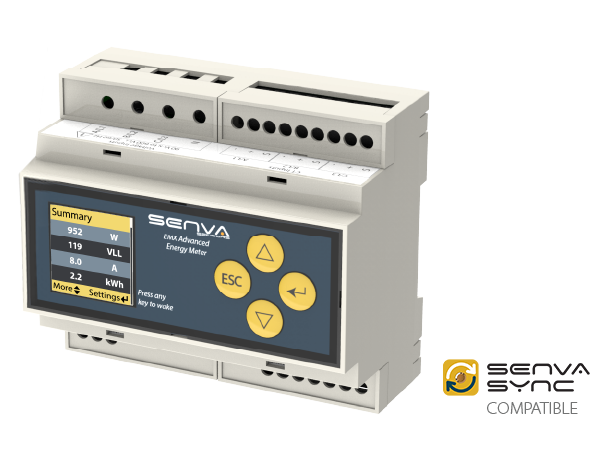 BACnet & Modbus
Pulse kWh, KVAR, kVA
Revenue grade metering (ANSI C12.20 Class 0.2 Standards)
Monitor loads from 0.25-6000A & 90-600V
Accurately measure harmonic loads


Intelligent Meter Technology
NEW! Configuration App with Senva Sync
OLED screen with user interface that streamlines the setup process
Self-powered with 1 to 3 phase voltage, 90-600V
Functions as three indepent voltage/current power meters
in one--mix and match CT sizes for multiple loads
2 pulse inputs for summing multiple meters or for general
(configurable) pulse counting from any pulse meter - water,
gas, steam, etc
2 pulse outputs for separately tracking positive and
negative energy usage, additional power metrics or power
quality alarms
Provides accurate RMS (Root Mean Square) metering of harmonic loads
Ultimate Flexibility
One universal meter supports all metering CT options in
the product family
Supports mounting on PR30 (TS 35/F6) DIN rail
Description
The EMX Advanced is the most user-friendly and quick installation True RMS energy meter on the market. Its line is powered with a color OLED screen and data-rich user interface, making setup as easy as L1, L2, L3. Equipped with both pulse and RS485 outputs, the EMX Advanced can connect to almost any metering or control device. Ideal for retrofits, the EMX accepts any 0.333V CT or standard metering Rogowski coil with no need for time-consuming and bulky integrators. Mixed or match loads or CT sizes!
Applications
Energy Management and performance contracting
Monitoring for commercial tenants
Activity-based costing in commercial and
industrial facilities
Real-time power monitoring
Load shedding
Audits/temporary monitoring
Distributed generation
Great for data center energy meter sensing
All prices shown are excluding tax unless otherwise specified.