CT1O Series
CT1O CO2/Temp Outdoor
Higher Reliability, Faster Installation, Superior Accuracy | Sense the Difference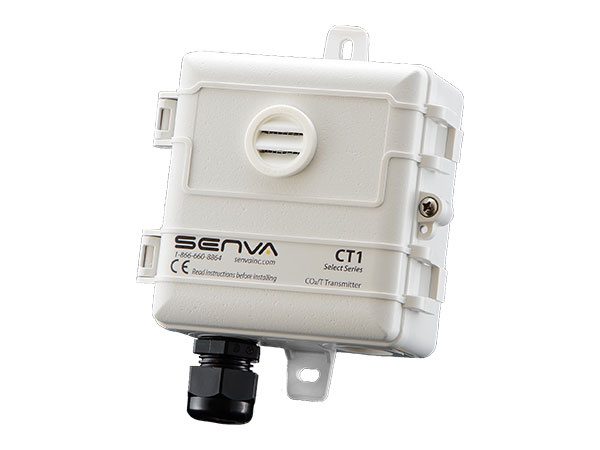 Adjustable for ranges of 2000, 5000, or 10,000 ppm CO2
Field replaceable dual-channel NDIR element
Dual 3-wire 4-20mA and 0-5/0-10V (selectable)
Rugged gasketed enclosure
Integrated display and push-button menus for field selectable scale, calibration, and operational modes
Dual 4-20mA and 0-5V/0-10V output (jumper selectable)
Integrated high-reliability solid-state set-point relay is ideal for direct control applications; easy to set up thanks to LCD
Non-dispersive infrared sensing element (NDIR)
Field replaceable dual-channel CO2 sensor
15+ year life expectancy on CO2 sensing element
Industry leading 7-year limited warranty on electronics; NDIR module 3 years
±30ppm, ±3% of reading
Description
Featuring a gold plated dual-channel NDIR sensor for the best accuracy and the highest reliability for your outdoor or greenhouse sensing needs.  An optional built-in LCD display makes set up a snap, and a standard solid-state setpoint relay makes demand ventilation simple. Dual 4-20mA and 0-10/5 vdc outputs.  
Applications
Controlling ventilation in response to occupancy
Facilitates compliance with ASHRAE 62.1 standard for air quality
Outdoor or greenhouse applications
All prices shown are excluding tax unless otherwise specified.