C-Series
Current Transducers
Higher Reliability, Faster Installation, Superior Accuracy | Sense the Difference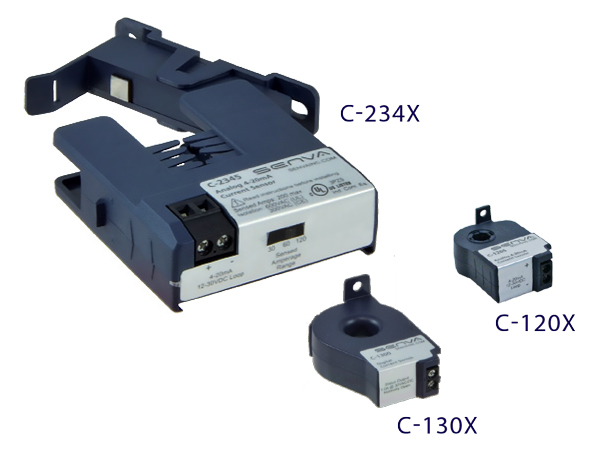 0-5VDC, 0-10VDC, 4-20mA outputs
Multiple selectable range split-cores
Optional command relay
Fixed range on solid-cores
Selectable ranges (30, 60, 120A or 5, 10, 20A) C-234X makes scaling easy, reduces call-backs and inventory
0-5VDC, 0-10VDC, 4-20mA loop powered versions for control compatibility
Superior split-core design for easy installation, mount sensor without removing conductor for installation savings
Clamp on conductor with iris or use detachable base to screw or DIN mount
Larger 0.75" aperture accomodates oversize conductors
Snap-on command relay for unitary start/stop/status… saves time and space
Industry leading 7 year limited warranty
Description
Senva analog transducers measure AC current and provide a proportional output for load trending and control. Choose from easy to install split-core or compact solid core. Selectable ranges and optional command relay make for a versatile transducer.
Applications
Load trending
Motor control
Process control
Fan/Pump status
Motor load jamming
Lighting load levels
Great for data center current transducer sensing
All prices shown are excluding tax unless otherwise specified.